René Görlich's
Gemini Astronomical Telescope Positioning System's
site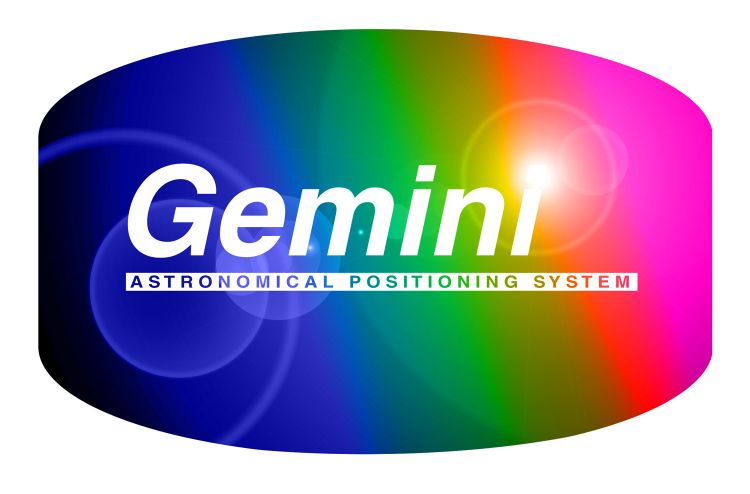 Gemini logo Courtesy P.J. Ward

This official Gemini developer's site gives Gemini users additional information to make best use of their telescope control system. Please contact the mount manufacturers or one of their dealers if you want to order the Gemini hardware for your mount. Check this site or contact me if you already have the Gemini and want to upgrade the software to a higher level, if you want to propose new features to be added, or if you experience problems.

The Gemini System comes with the German Equatorial Mounts GM-8, G11, Titan and HGM-200 produced by Scott Losmandy.

The Gemini is a sophisticated computer controlled servo system with lots of valuable features.
Based on 3 microprocessors (one per axis and a main CPU), it is self-contained and fully functional without the need for PC control in the field.
---
Software Versions
To allow for an ongoing development, Gemini software is build and supplied in several levels of functionality. The Gemini system is currently sold (with a mount or as a retrofit) with Level 3 software. Within each level, the software is maintained and changes are indicated by a version number. Levels 1 and 2 are no longer supported, an upgrade to Level 4 is recommended.

Changelog of the software released so far:
Initial Level 1
Level and Version
Release Date
Changes
Level 1, V1.0
November 2000
Level 1, V1.1
December 2000

Correct rounding for southern hemisphere SAO stars declination seconds.

Level 1, V1.2
January 2001

TVC speed reduced to 16x sidereal.
Change in reply to :MS# command in case the Gemini rejects a slew because the target object is below the horizon.
Menu point Setup->Set Timer renamed to Setup->Set Date/UTC.

Level 1, V2.1
July 2001

Extended Serial Command Set (see link below).
New Synchronize command under the Alignment menu point allows for adjusting the coordinates to an object without affecting the modelling parameters.
Quick Menu selection: Pressing the Menu button for more than a second scrolls a choice of Centering Speeds and Visual/Photo Mode through the display. Releasing the button selects what is just displayed.
A slew operation from the PC can be started into an ongoing slew.
More ruggedized Startup Mode selection procedure.
Automated restart by a watchdog timer in case of software failures without loosing alignment and modelling data, giving debug information.
Setup->Reset Defaults allows for selection between Losmandy or Mountain Instruments default values.

Level 1, V2.20
November 2001

Ruggedized autoguider readout.
Gemini starts up in the serial command precision mode that was active at shutdown.
Remote Control Level 2
Level and Version
Release Date
Changes
Level 2, V1.1
September 2001

All Level 1, Version 2.1 features.
Additional Native Serial Command Set to allow extended Remote Control and access to the internal parameters (setup values, telescope modelling, ...).
More internal databases.
Downloadable 4000+ object User Catalog.
All significant actions are logged into an Observing Log that can be uploaded to a PC.
MS Windows® Gemini Control Program for Remote Control, including setup of the Gemini, choosing startup mode, manual control, scripted GoTo operations, down- and uploading modelling parameters,... available for free download, but out-dated

Level 2, V1.2
November 2001

Ruggedized autoguider readout.
Gemini starts up in the serial command precision mode that was active at shutdown.
Professional Level 3
Level and Version
Release Date
Changes
Level 3, V1.00
September 2002

All Level 2, Version 1.2 features.
Many new features, described here

Level 3, V1.01
October 2002

Sync'ing and "Image Link" using TheSky now possible without a prior slew.
UTC Date/Time, Mount Type, Longitude, Latitude can be set directly at Cold Start.
Actual UTC Date/Time, Mount Type, Longitude, Latitude values are displayed after startup.

Level 3, V1.02 &
Level 3, V1.03
September 2003


Bugfix for Titan autoguiding.

December 2003


MS Windows® Gemini Control Center, now fully supporting Level 1, 2 and 3 features, and providing additional computer-controlled functionality.

Level 3, V1.04
March 2004


Beta version for Titan mounts with 50:1 spur gears (Titan50).

Level 3, V1.05
March 2004


Bugfix for wrong direction correction by PAC (Polar Axis Correction) at the southern hemisphere.

Level 3, V1.10
June 2004


Support for Titan50.
PAC corrected for the Southern Hemisphere.
GPS receivers probed at 4800 and 9600 bit/s.
Mount type defaults to Titan.
Slewing speeds default to 800x.

Level 3, V1.11
June 2004

Level 3, V1.12
September 2004


Bugfix for SRAM parameter initialization after a CMOS Reset (f.i. after a battery swap).

Level 3, V1.13
October 2004


Outside the Safety Limits autoguider corrections are ignored, tracking is not restarted.
Universal Level 4 software
Level and Version
Release Date
Changes
Level 4, V1.00
April 8, 2006

Completely redesigned software, supporting custom mounts and remote hand controller emulation.
Many new features, described here

Level 4, V1.01
April 10, 2006

Too slow guiding speed in DEC after changing the guiding rate using command >150 corrected.

Level 4, V1.02
May 1, 2006

Movements at Guiding Speed are also supported in Terrestrial Mode.

Level 4, V1.04
Mar 4, 2007

Test for a defective autoguider input chip. Symptom: Gemini freezes after GPS readout. V1.04 checks this condition, a warning is displayed and operation is continued even if the chip is defective.
Test for a defective serial port driver chip. A warning is displayed.
PEC counter is restored correctly at a Warm Restart.

Level 4, V1.05
Apr 10, 2007

Added some serial line commands for moving the axes by certain mounts of steps (motor encoder ticks).
Added a serial line command to read out the motor axes encoders.
Upgrade Gemini to the latest software
Owners of a Losmandy Gemini System are entitled to upgrade to the current software. This can be done by replacing Gemini's socketed eprom chip. The new software is available for free download.

You need an 512kx8 EPROM in the DIP32 package, up to 120ns access time, 150ns usually works, too. Examples are STS M27C4001, National NM27C040 or Fairchild FM27C040. Please use the eraseable kind with the little window allowing for erasing the content with special UV light, not the OTP (one time programmable).

The software is available as an image in Intel HEX record format or in binary form. Please be sure to select the the correct format programming device.

Often computer and electronics shops offer to burn images into EPROMs. Don't forget to cover the UV window after erasing and before burning the new image into the EPROM.


Instead of programming a chip yourself you can also buy ready to use Gemini Eproms here:

Current Level 4 Version 1.05:

You may want to use the "Save Link Target As" feature of your browser.

Level 4 Version 1.04:

Here's a description how to locate and replace the EPROM .
---
Manual and serial command set descriptions
Gemini offers many features to the beginner as well as to the expert. To make best use of it I highly recommend to read the very comprehensive manual written by Dave Sandage, Michael Rudolph and me. The manual is available for download in Portable Data Format (.pdf):
Software developers wanting their programs to communicate with the Gemini: Here are the Serial Line Command Interface Descriptions (these links will open new browser windows) :
Gemini Accessories
If you want to connect a cute little GPS receiver to set your mount's date, time and location automatically a startup, check for StarGPS GPS receivers (the link opens a new browser window)!
A star chart with Gemini's bright and alignment stars can be found at duchekconsult.com.
---
Gemini Control Center GCC for MS Windows®
You don't like to work through the menus of the Gemini? You'd like to save the settings into a file and download them if necessary? Save the well tested modelling parameters for your permanently mounted telescope? Or script control your telescope?
Level 3 and 4 software together with the Gemini Control Center contributed by my son Daniel puts you in full control at the keyboard of your PC.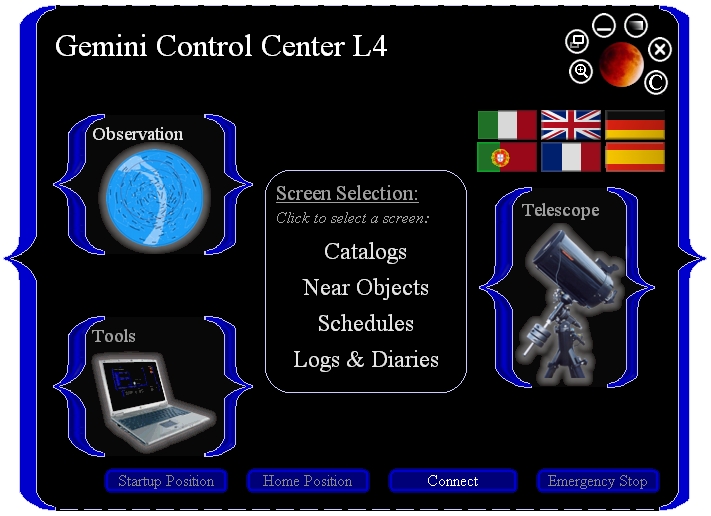 Click here for a detailed overview of the capabilities of the Gemini Control Center. For download and installation, please follow the instructions on this page !
Mike Rudolph and Daniel Görlich have written a comprehensive manual for the GCC (1 MByte .pdf file).
---
Analyze and reduce Periodic Error with PEMPro

PEMPro now fully supports Gemini Level 4 Firmware. This allows for dramatic correction and refinement of PE for all Gemini equipped mounts: PEMPro provides direct upload and download of PEC curves to Gemini firmware and beta testers have reported an average of 80% reduction in Periodic Error using the new L4 firmware and PEMPro 1.6.

For technical information regarding specific Gemini L4 support please see PEMPro technical support.
For more information about purchasing or upgrading to PEMPro Version 1.6, please visit: www.ccdware.com.
---
Databases
Level 3 and 4 software contain:
You can prepare your observations by building user catalogues using your computer and and downloading them into the Gemini using the Gemini Control Center. Well prepared observing, together with the automatic logging of your actions, can be much more effective.

It is not possible to upload Gemini's databases to your PC. If you want to compile your specific observing lists for the night using the objects from the Gemini's databases, here they are in the Gemini User Catalogue (.guc) file format. You can download them, copy and paste your targets using your favorite editor, building up your specific programs for the night.
---
Additional Information
If you want to share experiences with other Gemini users, there are two Yahoo groups online:
---
Credits and Thanks
to Norman Diehl, who helped a lot in developing the circuitry for the microstepping Gemini ancestors, inspired me a lot and kept me busy programming until the system was fully functional...,
to all astronomers that contributed to compiling the catalogs, especially to Wolfgang Steinicke, and to the institutions that made this data available,
to George and Dave for the servo part and the electronics,
to Larry and Peter for a lot of testing and useful hints,
to Dave and Mike for the new Gemini manual and much more,
to all my fearless Beta and prerelease testers,
to all Gemini users contributing ideas for enhancing the system
and of course to Scott Losmandy for putting the system into this nice housing, all the mechanics, the manufacturing, the marketing and much more!
---
Please send questions, suggestions, bug reports, ... to René Görlich
Klick here to get the UTC data/time in Gemini style.



---
Last modified: May 12, 2009